I was sitting scrolling through social media, picture after picture of mountain ranges and national parks, when I heard the news that the government is set to reopen the housing market. Estate agents will be allowed to open, house viewings to commence and movers and conveyancers to start up business again. As someone who champions first time buyers to own their own home, this came as exciting news, especially for those whose plans were put on hold before this happened and who can now find and move into their own home.
When I looked back at my phone and saw a picture of the Dolomites, taken from the back of someone's campervan, it got me thinking; What does 'home' really mean to me? I am someone who gets inspiration from the outdoors, I have missed the freedom to travel more than anything in this lockdown, and home to me, is about freedom. I don't exactly need a big fancy house, lots of storage, or even a lot of space, as long as I have access to the great outdoors, where I feel most at home. I am considering buying a campervan!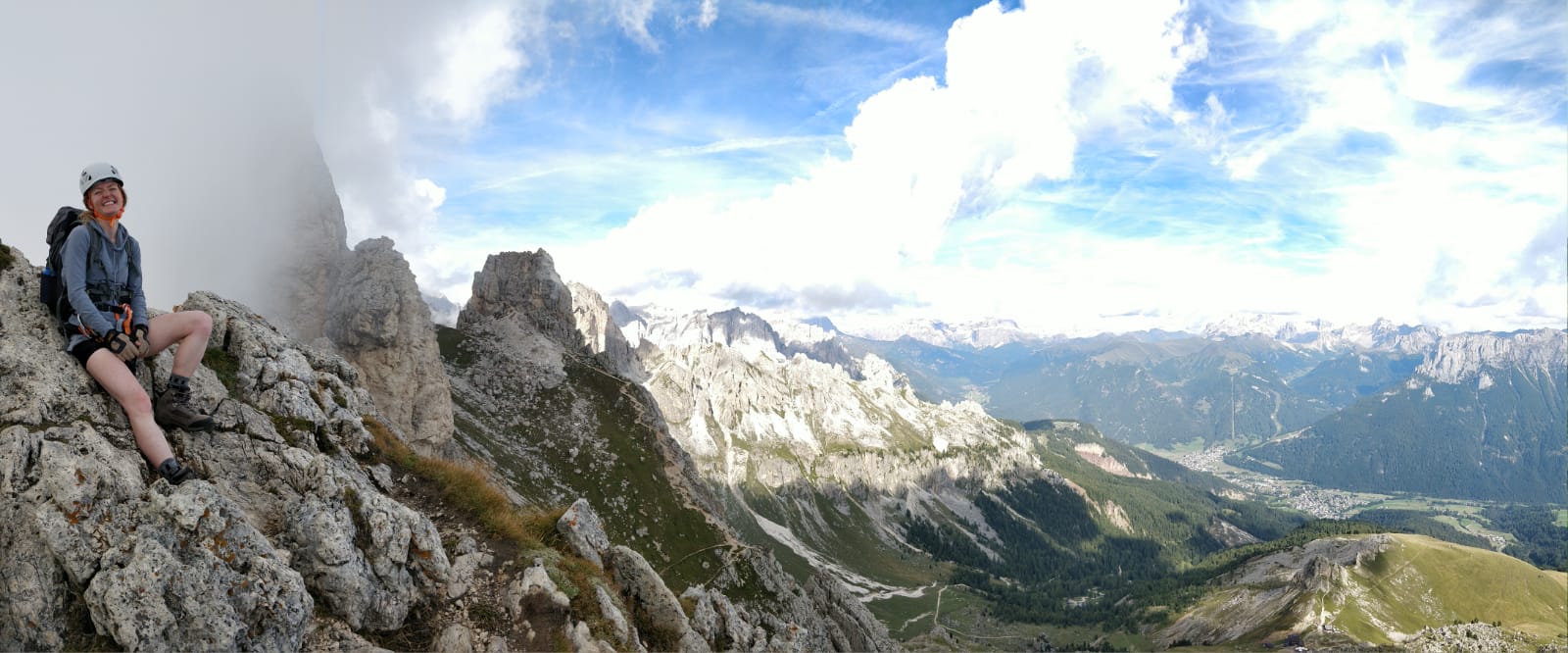 Michaela Regan, Head of Communications climbing in the Dolomites
I asked the StepLadder Team what home meant to them...
Osei Downes, Head of Partnerships
"For me, 'home' is about owning my space and feeling I belong. To feel at home I need my family around, I need a community to be a part of and I need the 4 walls of my own place. Getting to paint them any colour I like is exciting, it's having the freedom to make it my own!"
Helen Saxton, Head of Marketing
"'Home' to me is security and a place for private sanctuary. I like being able to feel comfortable and close the doors whenever I want for some time alone to relax."
Peter Vu, Head of Member Operations
"I want a place I feel comfortable in. Somewhere I can relax and call my own. That is what 'home' means to me, it is about safety and comfort... But it will also need a place to store my trainers."
Essam Nabil, Lead Developer
"'Home' is a place where most of my happiest memories are made. Whether I am sitting chatting with friends, or having a family dinner where everyone has to cook something (even the 10 year old kids) or where I had my first kiss while swimming in at a beach at night. 'Home' is a place to make even more happy memories"
'Home' clearly means lots of different things. Perhaps the lockdown has also made you rethink a few things. If there is something jumping out that you miss most, perhaps it is to be considered in your house search so you can find a place you can truly call 'home'.
Michaela is the Head of Communications at StepLadder and is passionate about helping people be at their best!