In light of the U.K Government's budget announcement on 95% mortgages, we want to break down what the scheme means, share some facts and figures on deposits, things to consider before you start your home buying journey and give some recommended mortgage providers.
Helping people buy their first home
Most people don't know that we've been championing 'Generation Rent' for years, no seriously, we have. In September 2019 (nearly two years ago), StepLadder launched a First Time Buyers Unite petition. We went to the House of Parliament to fight for the right that homeownership should be an achievable goal for First Time Buyers (FTB's for short). We sat down with the Government, Local Authorities, Communities, Housing Associations, Think Tanks and Commercial Players to influence policy making. StepLadder is a team that takes action, and naturally, we're not solely responsible for the 95% mortgage scheme, but we certainly contributed to the cause.
Do you dream of owning your own home one day? If so, carry on reading what we have to say.
The 95% mortgage guarantee scheme and how it works
Come April this year, the Government will 'guarantee' the scheme. This scheme is designed to encourage banks and other lenders to start offering 95% mortgages. But how has this new scheme changed things? Typically, lenders don't like the risk of paying 95p in the £1 for the house you buy and charge swinging rates for high loan-to-value (LTV) finance. Under this scheme, the Government will guarantee the proportion of the mortgage over 80%, and they'll compensate the lender for losses by reducing the risk of the lender. The Government expects more lenders to accept 5% deposits than they would otherwise. On budget day, we certainly saw a coordinated effort among high street banks to sign on to the program.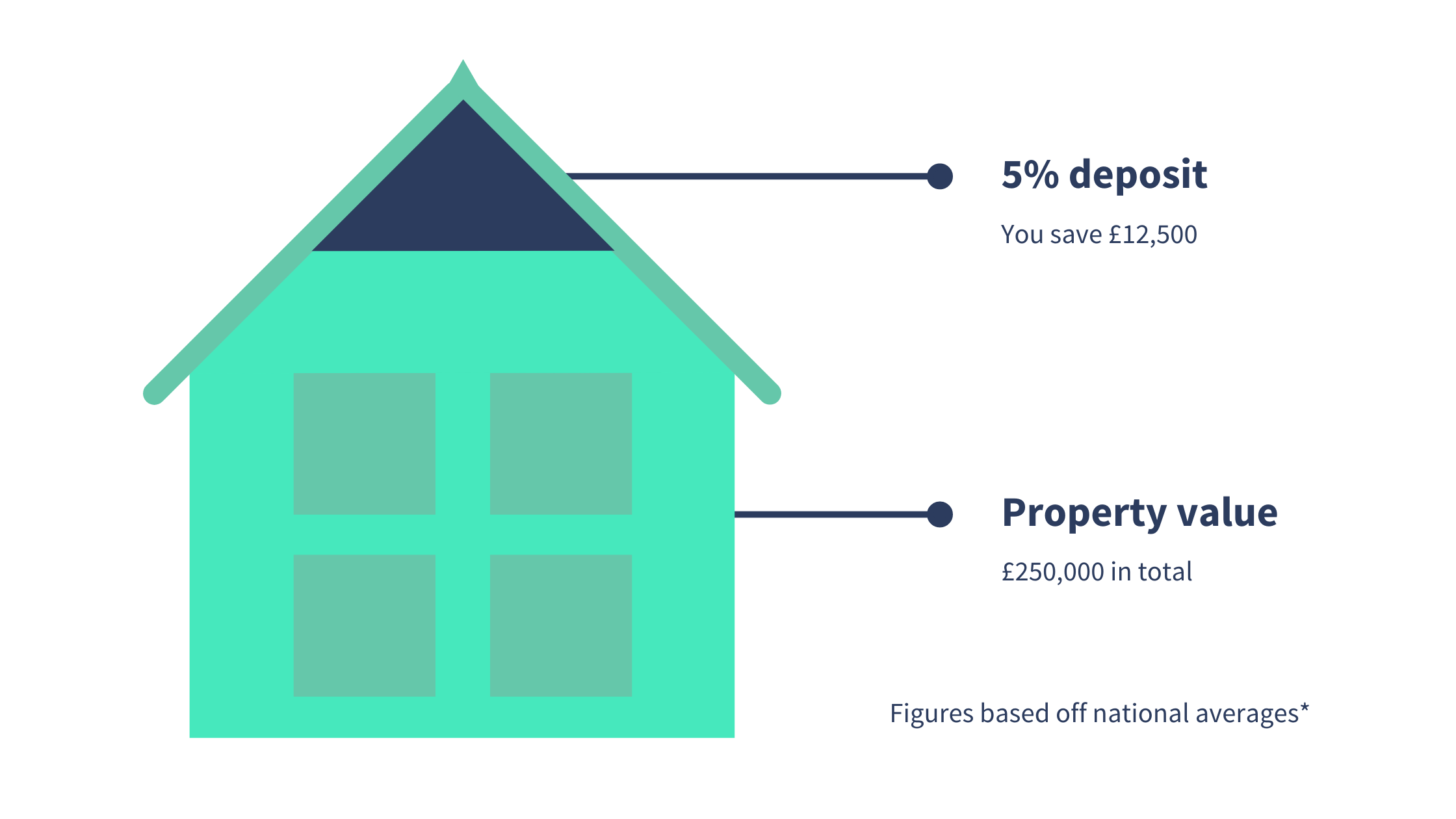 Who is eligible for the 95% mortgage scheme?
This scheme is open to First Time Buyers (FTB's) and is not for people buying a second home or those considering a buy-to-let mortgage. If you're interested in this scheme, you'll need to live in the property - either a new-build or an existing property worth up to £600,000.
If you are interested, you'll have to apply for a repayment mortgage vs an interest-only mortgage and pass the standard affordability checks and credit score assessment. However, this scheme will have a limited lifetime: from April 2021 to 31 December 2022. It's likely to be reviewed before the end date, which is why it's essential that if you're thinking of buying your own home to start owning personal finance and work on raising a property deposit. Why one raise your funds with StepLadder?
Did you know that 90% of our Members raise their funds quicker through our StepLadder Circles vs going at it alone?
Interest-only vs repayment mortgages
This is where things start to get a little tricky as there are different types of mortgage products. For this article, we're focusing on one type of product, a mortgage under the new under the guarantee scheme. The main difference between the two is that an interest-only loan is where you only pay off the interest each month and none of the capital (also known as principal). This means you don't actually pay off any of the loan during your monthly repayments; instead, you'll have to pay the total amount back by the end of your mortgage - or when you sell the house.
With this type of mortgage product, the debt's size remains the same throughout unless you choose to pay more each month. We see many FTB's choose this type of mortgage because the payments on an interest-only vs repayment mortgages are typically smaller. Plus, many FTB's plan to move up the property ladder - where people sell their first property for their forever home.
With a repayment mortgage, you'll pay a proportion of both the interest and the capital each month. This allows you to chip away at the debt every month and every year. By the end of the term, you would have repaid the total amount borrowed - and own your home outright.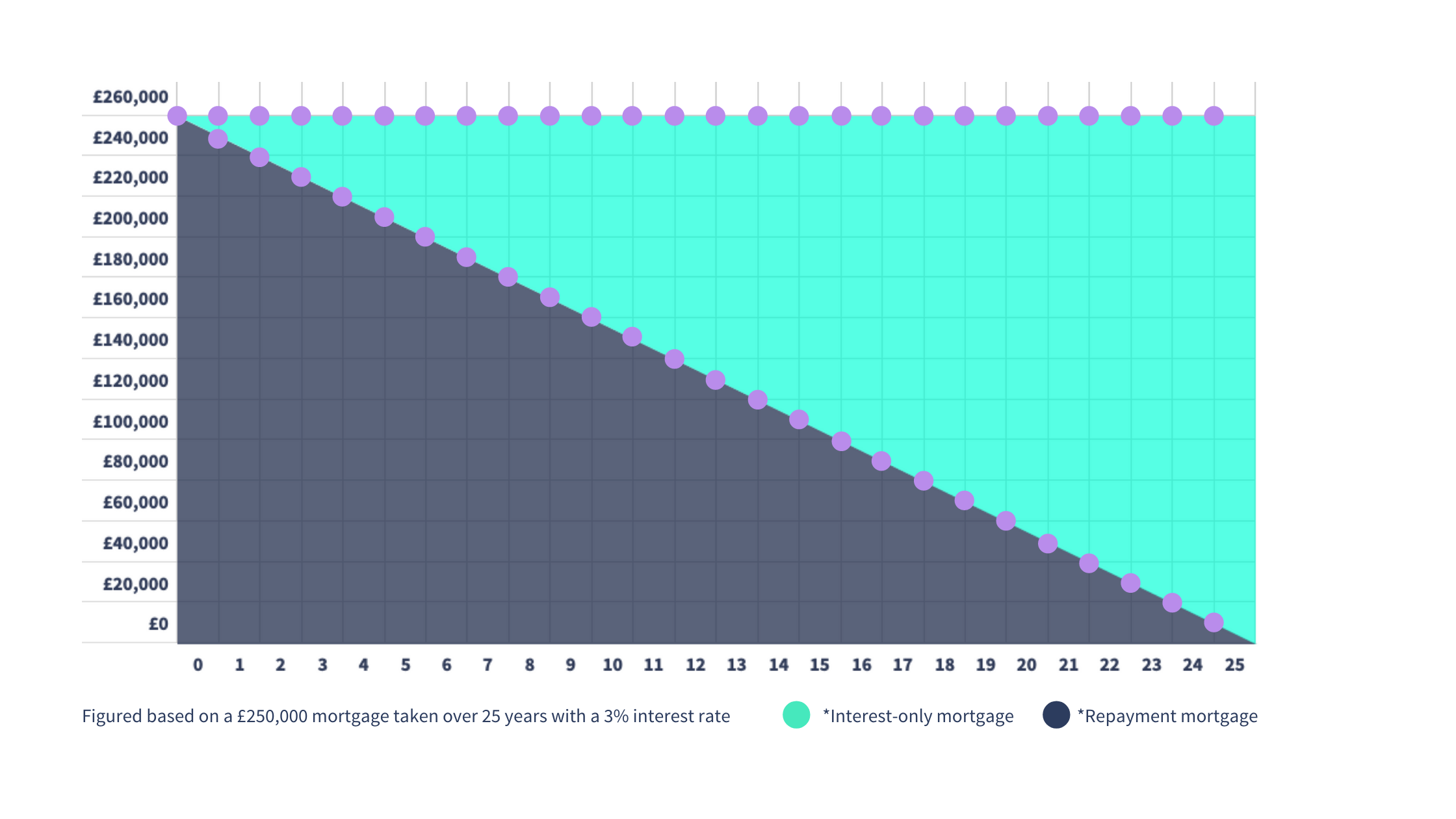 Mortgage repayments explained: interest-only vs repayment
Let's take the average house price in the UK, a £250,000 interest-only mortgage with an annual 3% interest rate over 25 years. Each month, you'd pay £625 a month, adding up to £187,500 over 25 years. On top of that, you would also have to pay back £250,000 at the end of the term.
With a repayment mortgage worth £250,000 with the same terms, you'd pay £1,186 a month and would have cleared the capital after 25 years. With this method, you'd pay £105,800 in interest - making it £81,700 cheaper than the interest-only mortgage. But each month your payment would be double!
This is why credit scores are so important - with the above figures, an interest rate of 3% equates to over £180K in interest over a 25-year term. If you had an excellent credit score, you could save 1% on the mortgage, meaning a good credit score could save you tens of thousands. Definitely not worth ignoring.
It's important to remember that with any mortgage products, there's pros and cons. The housing market is highly complex, so find a solution that works for you and your situation. Did you know StepLadder reports to Equifax? We could help you improve your credit score too.
Disadvantages to the 95% mortgage guarantee scheme
Interest rates: the smaller the deposit, the bigger the loan. The bigger the loan, the more interest you're likely to pay. This is why most lenders suggest saving up a bigger deposit; it's cheaper in the long-run.
Remortgaging may be harder: to qualify for a better deal, you need to build up enough equity. If you only pay the minimum, you'll have less capital to bargain with when it comes to renewing your mortgage.
Negative equity: this isn't specific to this mortgage scheme but all mortgages. If your home's value drops (which happens), you could owe more on your mortgage than what your property is worth. You can overcome this, though, by fronting a larger deposit or paying more than the monthly payments.
5 ways to prepare for your home buying journey
Improve your credit score: strike a balance across your credit cards and overdrafts – don't get too close to the limits, and keep up with your payments. Defaulted payments stay on your record for up to six years, so don't let a missed payment be the reason you can't get a mortgage.
Register to vote: it's almost impossible to get a mortgage if you're not on the electoral roll. Lenders use it to do identity checks. There are official workarounds for non-UK nationals, but if you can, get on that roll!
Cut your spending: Re-do your budgets and try to live more frugally in the months leading up to a mortgage application.
Not only are moving costs expensive, but lenders will be looking at all your spending for assurances you can afford your mortgage.
Save for a deposit: it's one of the biggest chunks of money you'll need for your house move and directly affects how much you need for a mortgage. It can feel overwhelming if you realise too late how long it'll take you to save. Start small, start early, and commit to building that deposit fund step by step. Sometimes the key is creating a regular, committed way to set aside money toward this goal every month.
Research equity loans: this is a Help-to-Buy loan from the Government. Depending on where you live in the U.K, the Government would lend you between 15% and 40% of the total property value. However, you'll need to put down a deposit of at least 5%.
Mortgage providers who have committed to the guarantee scheme
For years there's been a power struggle between lenders and homebuyers when it comes to deposits, fixed vs variable rates of interest and credit insights for FTB's. We've been keeping an eye out, and we think these three lenders could be helpful to you.
A game-changing mortgage product by Habito
Habito will now offer a 40-year fixed-rate mortgage to customers. You might be thinking, a forty-year mortgage, that's ridiculous! But it's not; it's revolutionary, and it creates a flexible system that supports financial freedom and changes in home buying habits.
This new product is available now and is called 'Habito One' and is open to FTB's, homeowners and remortgagers. What's unique about this type of product is there are no early repayment fees or exit fees - giving people the flexibility to adapt a product around their situation (yipee!). The rates of this mortgage will start at just under 3% for a Loan-to-Value.
There are four key features of the Habito One product: one, your monthly payments will never change. Two, your interest rate is locked in forever. Three, you have the flexibility to move, switch or pay off your mortgage early, and lastly, you never have to deal with the hassle of remortgaging again!
But why has this not been done before? It's similar to the banking industry - not the same but similar. For decades the market has consisted of traditional methods, but with digital technology innovations and changes in consumer habits - Habito has stepped up to support Generation Rent.
A mortgage for people with poor credit by Metro Bank
Metro Bank will make the credit checks less strict than other standard mortgage loans. In return, you'll have to pay higher interest rates of up to 4.19%.
But what if I've missed payments before, declared bankruptcy and had my home repossessed? You'll still be eligible for this mortgage product under certain circumstances. Visit Metro Bank's webpage for more info.
A more traditional option with flexible options by Barclays
We've been working with Barclays for some time now, and their reputation speaks for itself. As one of the longest standing banks in the U.K, Barclays offers a suite of products for customers with different needs.
Member testimonials
Buying a property is arguably one of the hardest things you'll ever do. But once you start this journey, it gets easier. You begin to understand personal finance more and more - edging you closer to financial freedom. And it doesn't stop there; investments, savings and properties are all at your fingertips - regardless of your financial situation, you can do it.
When you buy your first home, it's such a magical experience; it's even better when you're the company that helps people do this every day. So far, we've helped over 700 people raise funds for their financial goals, and we've awarded £770,000 to our Members. Here are a few of our Members and what they've had to say about StepLadder.
Has this article been helpful? If so, why not become part of the StepLadder community and we'll send you weekly content so that one day, you can buy your first home.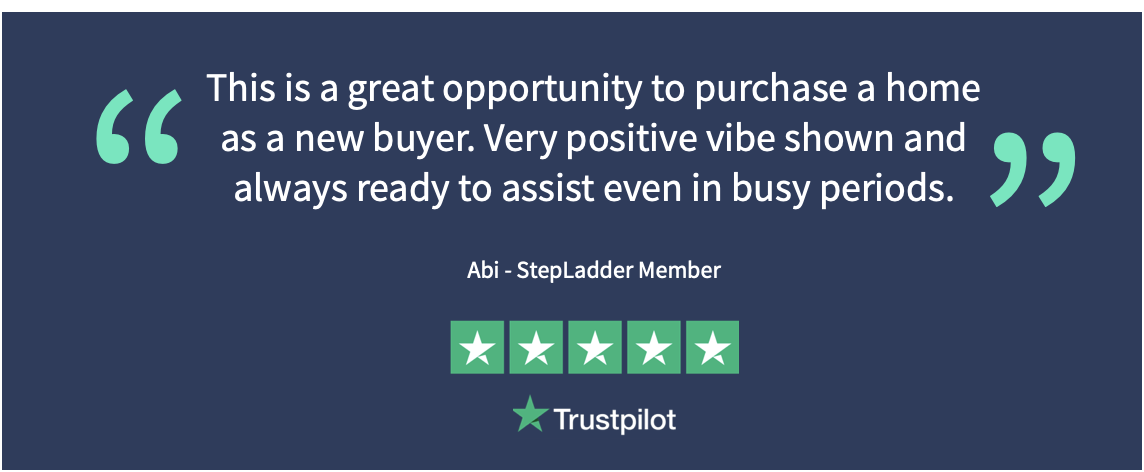 Important Information
Using StepLadder's P2P product you will lend to and borrow from other Members in your Circle. Capital at Risk, Not FSCS Eligible. Missed or late payments may have an adverse effect on your credit score.
Marketing Manager with over 5 years expertise in banking, digital and Marketing.