Meet Irene
What a week it has been! The clocks have gone forward; lockdown restrictions are being lifted, and the U.K has seen some warmer weather - this is all excellent news, and just in time for the Easter bank holiday. Last week we wrote an article on what the new 95% mortgage scheme could mean for you. This week, we wanted to share a case study of one of our superstar Members Irene - you've probably seen her face a lot recently on our website and part of our crowdfunding campaign.
Irene's journey to home ownership
Irene, 29, works as a doctor for the NHS in London, specialising in oncology, haematology and surgery. She wanted to own her own home to feel more settled and have a solid base in London. Growing up in Uxbridge, Irene also wanted to own a property that would keep her near her parents' home, a goal for many of us.
Irene knew the struggles of raising enough capital for her first home was going to be difficult. Many mortgage lenders want first time buyers to have a 15-20% deposit to purchase – around £31,950 on average, and raising funds can feel like an impossible task. Plus, none of us learn how to buy a house at school, so trying to work out where to begin is a daunting task. But Irene did it, and so can you. Thankfully, the new 95% mortgage guarantee comes into effect in April.
Doing shift work, Irene felt she was able to save money picking up extra shifts as she desired. Despite this, she still found it challenging to save the large sum of money required for a home deposit on her own. It's a fundamental human right to be able to own your own home, and Irene was looking for a solution. One provided by the collaborative deposit raising platform, StepLadder.
Irene came across StepLadder through Instagram and liked what we do. She was curious and wanted to know how does StepLadder work? So she booked a call with one of our colleagues in the Membership team.
After having a friendly chat with us, Irene decided to join a £750 a month Circle to raise £12,000, feeling that it would help her stay accountable in putting away £750 a month rather than spending the money on holiday. She found the process of joining very simple, having a call with the StepLadder team to go through all the details. She also completed an affordability check that helped her ensure she would put aside the monthly amount comfortably.
For those who aren't familiar with StepLadder, our mission is to help people buy their first home. We use a financial model known as a 'Rotating Credit and Savings Association' (ROSCA). This model is popular and has been used for centuries across the world. You may have heard of it being called names like a Pardna, Chama Susu, Committee, Tontine, Paluwagan, Njanggi - the list is endless. Irene was familiar with this model, so it was easy for her to join StepLadder as it's a proven and tested method.
What Irene achieved with StepLadder
Irene started looking at houses before she'd raised enough money to purchase a home, using it as a motivation to help her plan how much she would need to raise. Besides raising her deposit through StepLadder, Irene was strict with her personal outgoings, limiting her spending on holidays, takeaway meals, dinners out, taxis and more.
Within one year, Irene raised a £30,000 deposit to purchase her home, with £12,000 raised through StepLadder. She bought a two-bedroom home in Uxbridge, just three minutes from her family home, ensuring she'd be able to see them regularly. With StepLadder's support, Irene also managed to get a great deal, completing a purchase price of £335,000, down from the £350,000 that the house was on the market for. Here's what Irene had to say about it her experience:
"Buying a property can feel so unachievable, especially in London. I didn't live at home for long, so it felt hard to know how to raise the huge amount of money I would need, but knowing I had StepLadder to keep me on track and that it would help me raise £12,000 within a fixed period made it all much easier. It was so motivating to know I was moving closer to my home ownership every month, and I loved being part of a group of people in a similar situation who were all working towards a common goal. The StepLadder team was always so supportive in finding exactly what I was looking for in a home and were always ready to share their knowledge on other home-buying tasks like finding a good mortgage broker. I'd highly recommend StepLadder to anyone raising a property deposit for a home and finding a good mortgage broker too!" – Irene Asamoah.
Our top tips for anyone looking to buy their first home
Do you still think it's impossible? It's not. We promise. With discipline, dedication and the right motivation, we believe that everyone can develop brilliant savings habits, smash their financial milestones, and achieve that dream of home ownership.
Here's our top tips for getting on the property ladder and staying focused on your goal:
The process takes time: We wish it were easy to add a house to a shopping basket and pay with face-id. There are three parts to the home buying journey; before you buy, house hunting and once you're ready to make an offer.
Make a plan: buying a home is a marathon, not a sprint. People spend years saving for a property deposit which means years of being frugal with your money. Making a plan and setting financial goals to stick to will make it easier in the long-term. This way, you can forecast your monthly outgoings, what you want to save, invest and spend on entertainment. This also changes your mindset towards money - helping you for years to come.
Work on your credit score: Your credit score fluctuates, so find ways to improve it as much as possible before your mortgage application. This shows lenders how disciplined you are with paying back the money. One of the best ways to manage this is to borrow what you can afford to pay back and avoid using more than 30% of the limit. If you do, pay it off quickly.
Manage available credit: We don't suggest you should go and get a credit card but if you do have one or are considering getting one - strike a balance across your credit cards and overdrafts. Don't get too close to the limits, and keep up with your monthly payments. Defaulted payments stay on your record for up to six years, so don't let a missed payment be the reason you can't get a mortgage. You can avoid this by setting up a monthly direct debit or DDM for short.
Register to vote: It's almost impossible to get a mortgage if you're not on the electoral roll. Lenders use it to do identity checks. There are official workarounds for non-UK nationals, but if you can, get on that roll!
Cut your spending: Re-do your budgets and try to live more frugally in the months leading up to a mortgage application.
Not only are moving costs expensive, but lenders will be looking at all your spending for assurances you can afford your mortgage.
Save for your deposit: Deposits are the biggest chunk of money you'll need for your house move and directly affects how much you need for a mortgage. It can feel overwhelming if you realise too late how long it'll take you to save. Start small, start early, and commit to building that deposit fund step by step.
House hunting: This is the exciting part but don't get complacent. Research Government schemes, stamp duty and alternative options that could help you buy your first home.
Ready to make an offer?: This is arguably the most challenging part. You've got to figure out what type of mortgage you're going to apply for, pass the standard affordability checks and credit score assessments. On top of this, you'll need a solicitor and organise a structural report.
Enjoy the process: Make a plan, stick to it and try not to let the process overwhelm you - it can be pretty fun. Surround yourself with people who will support you and find property experts who have your best interest in mind, and the rest will happen organically.
What are you waiting for?
Buying a property is arguably one of the hardest things you'll ever do. But once you start this journey, it gets easier. You begin to understand personal finance more and more - edging you closer to financial freedom. And it doesn't stop there; investments, savings and properties are all at your fingertips - regardless of your financial situation, you can do it.
Has this article been helpful? If so, why not become part of the StepLadder community and we'll send you weekly content so that one day, you can buy your first home.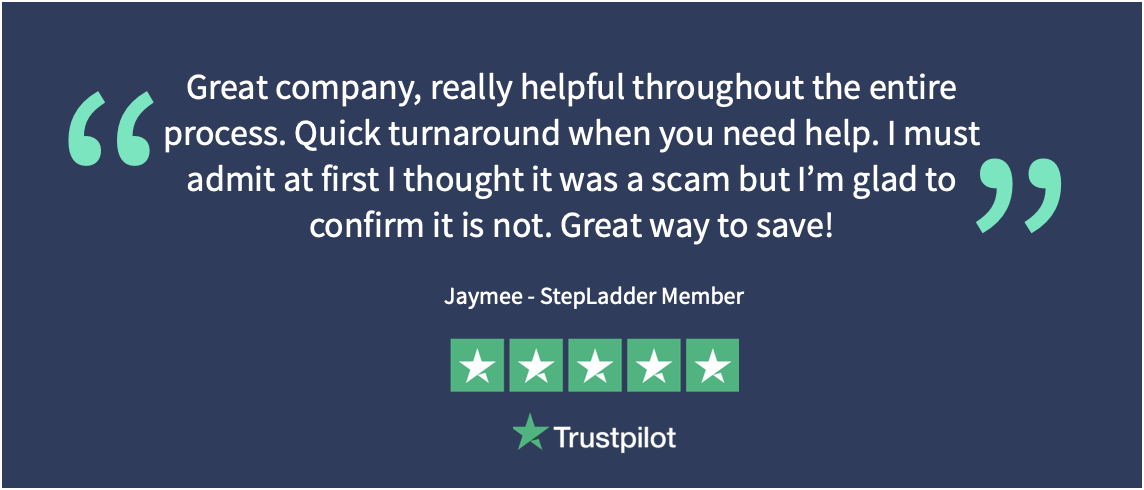 Important Information
Using StepLadder's P2P product you will lend to and borrow from other Members in your Circle. Capital at Risk, Not FSCS Eligible. Missed or late payments may have an adverse effect on your credit score.
Marketing Manager with over 5 years expertise in banking, digital and Marketing.