Shanae has purchased her first home and we couldn't be happier for her!

Having rented in London for years with her young son Jayden, Shanae is over the moon to be getting the keys to her first home.
Shanae said: 'StepLadder gave me so much personalised support during the homebuying process. Being a single mum, it was really daunting to be facing it alone, but StepLadder really understand and could help me, answer my questions and to just have someone I could go to. That was the golden ticket for me, I really appreciated having that one-to-one support'
Shanae received her £5,000 deposit four months after joining StepLadder. Chosen at random, nine out of ten people in this circle stand to receive their deposit faster than saving alone.
Shanae adds: 'StepLadder was great at helping me discipline my savings. Knowing the money was squared away for my deposit meant I couldn't quickly dip in and take it back out. I am so happy now to have the keys to my first home!'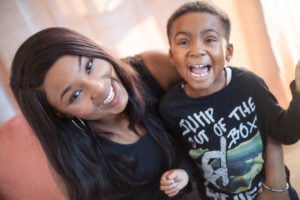 StepLadder's Founder, Matthew Addison says 'After months of hard work, we are delighted that Shanae is our first member getting the keys to her new home. This approach to saving for big purchases is a model that works successfully in over 70 countries worldwide – so, in a country like the UK where homeownership is an aspiration for many, even in a demanding market, we expect to see many more success stories like Shanae."
"If we're going to put a dent in Generation Rent, maybe it's time for a truly alternative & collaborative approach – and StepLadder may prove to be just the solution."
If you're thinking of purchasing your first home, see if StepLadder could help you reach your property goals faster! Learn more.
Michaela is the Head of Communications at StepLadder and is passionate about helping people be at their best!