It is the beginning and it is the end.
As we say Happy New Year, it is not only the beginning and end of a year, but also an entire decade.
As a professional coach who helps people set goals, overcome challenges and realise their dreams, I've seen first-hand the importance of beginnings and endings. Beginnings are catalytic. They invite us to start afresh, plan and change. Endings are poignant. They give us the opportunity to stop and reflect.
So how are you going to use the energy and momentum of this decade change, that only comes every ten years, to start setting goals and making your dreams a reality.
Whatever you dream of achieving in this new decade, here are ten tips that could help you make the 2020s your best yet…
ENVISION – envision your dreams being your reality. How will it feel when you've bought your new home, got that promotion, run that marathon? Create a vision board with images and quotes to remind you of what it is you want to achieve and then keep it somewhere you will regularly see it.
EDUCATE – educate yourself on what you are going to need to do to achieve your dream. For example, if you want to buy a house, learn about the house-buying process, mortgages, your budget and what support is out there.
EXCITE – share your excitement and enthusiasm with others. Saying your goals aloud will help them feel more real and you might inspire others to set goals in pursuit of their dreams.
ENGAGE - engage with the emotions you feel about both achieving and not achieving your dream. You need to feel emotion about what you want to achieve, and it will probably be a mixture of emotions – excitement, fear, pride, delight, anxiety – embrace all of these emotions and use them as energy for progressing in the right direction.
ENERGISE – energise yourself with new opportunities to begin – if you lose momentum there are plenty of beginnings throughout the year to make a fresh start. The first of the month, the new moon, your birthday, the first day of spring/summer/autumn/winter the anniversary of an important date, public holidays, and don't forget Mondays!
ERASE – try and erase, or at least minimise, barriers to achieving your dream. Write down everything that could throw you off track, then write down three more things. Work through the list one by one and make a plan to remove or minimise the obstacles that could get in your way.
EVOLVE – your dreams can evolve and change. Just because you set one goal at the start of the year doesn't mean that won't change, embrace that change and enjoy the journey.
EVALUATE – check in and evaluate your progress at regular points throughout the year. Celebrate your progress and reflect on what's helping you get closer to your goal. Don't beat yourself up if you haven't made as much progress as you'd like, embrace the opportunity to start again.
ENLIST – enlist the support of others. Most things are better together. We are social animals designed to survive and thrive when we collaborate and support each other.
ENJOY – enjoy pursuing your dream, make the journey as exciting as the destination!
As you reflect and look forward to making your dreams a reality in this new decade, don't forget the wonderful words of Walt Disney…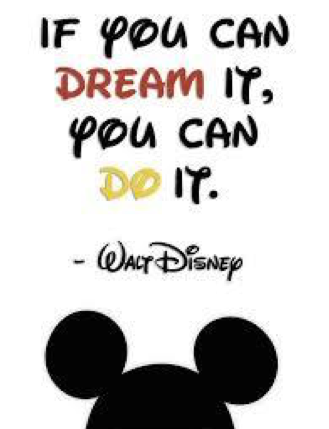 Lucy is Co-Founder and COO of StepLadder. She is passionate about health and fitness, and being a PANK (Professional Auntie No Kids!). She is a trained executive coach and loves cheerleading people towards their goals!